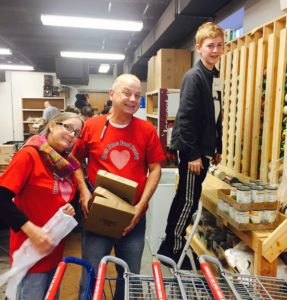 Church of the Open Arms has a long tradition of providing food to those in need. Each Friday, we give out food to the needy. We typically give close to 3,000 pounds of food per week to those who need assistance in our community.
Anyone in need of food is invited to come to our food pantry on Fridays from 4:00-6:00 p.m. Early sign-up begins at 2:00 and the first group is called down at about 3:45.
Want to volunteer?
Volunteering at our food pantry is a wonderful way to make a difference in the lives of others. On Thursdays, we need people who can lift between 12:00-1:00 p.m. to help unload the Food Bank truck. On Fridays, we need people from 2-6 p.m. who can lift. Any time you might have to offer during this period, especially any time between 4-6, will be appreciated.
Even if you can only come help for an hour, you will be blessed!
To volunteer with the Food Pantry, contact Bo Wright-Bass at bodoesavon@gmail.com.
Want to Donate?
We need non-perishable items like canned vegetables & meat, peanut butter, and personal hygiene items (toothpaste & toothbrushes, soap, etc.) and we always need gallon-size freezer bags.
Contact the church office
with donations of food, money, and supplies: 405-525-9555